While many of us are looking forward to spending Thanksgiving eating our entire bodyweight in turkey and carbs, some of you may not be so excited by that prospect. So you've found out that the Freshman Fifteen is actually a thing (which is rite of passage so don't sweat it) and so you want to go a little easier on the calories this Turkey day. Well don't worry, there are some very simple swaps you can do that will make you feel like you haven't missed out without making your pants feel way tighter.
The naughtiest of all naughty thanksgiving foods - the
candied yams
! If you feel like cutting out the marshmallows but don't want to totally sacrifice the Turkey day tradition then try this
sweet potato casserole
dish with added pecan nuts.
Because it's a vegetable, you would think it should be healthy but all the added cream and cheese means that
creamed spinach
is pretty much as bad for you as all the carby parts of your dinner! Simply swap it for this
green bean casserole
; you'll never be able to tell the difference!
Dinner rolls
are a great addition to your dinner but they also add extra calories! Swap them for these
sweet potato biscuits
instead to make them a bit healthier.
Mashed potatoes
are the ultimate comfort food but with this sneaky little swap, you won't even miss them -
cauliflower mash
! Cauliflower can literally be made into anything; rice, pizza base, you name it!
Gravy
can contain a lot of fat which pushes your calorie count through the roof so by swapping to this
vegan recipe
, you'll make your dinner a lot healthier!
This
gluten free stuffing
recipe is an easy way to cut calories, as well as cram in more vegetables (than
regular stuffing
) therefore more goodness! Win - win!
Cornbread muffins
make a great side for your Thanksgiving dinner but they're pretty unhealthy - that is unless you try out this healthier
corn and cranberry
recipe.
It wouldn't be Thanksgiving without a table filled with too much pie to count (never mind eat) and
pumpkin pie
is the ultimate classic. If you swap the classic for a
paleo recipe
then you won't have to feel as guilty about it!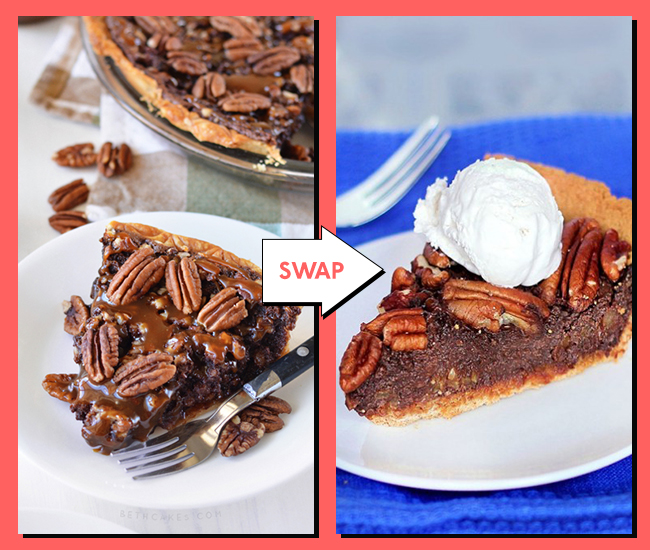 If you're more of a
chocolate pecan
fan then don't worry - there's a
healthy alternative
for you too!
Even more from UNiDAYS
We bring the best discounts from the best brands to college and uni students, as well as exclusive videos, articles and loads of tips and advice to make your student life even better - all for free!
Join now or log in to start saving on everything from food comas and fashion to (finally) getting fitter.
Verify now to start saving on everything from food comas and fashion to (finally) getting fitter.


Got a lot to say? We're always looking for awesome guest bloggers. Get in touch with your ideas!