We all know there are two types of girls on Halloween. The Cady Heron 'Zombie Bride' and the Plastics. Luckily for you, whichever camp you fall into, Missguided have got the get-up for you! Sassy or scary? It's your choice!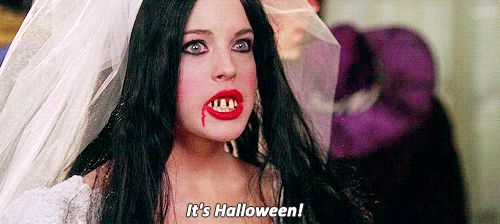 GIF Source
"I'm A Mouse, Duh"
If you're definitely more in Karen, Regina and Gretchen's camp this Halloween you're going to want to look sexy, sassy and pretty whilst getting on with the Halloween theme of course! Missguided have some gorgeous lace items such as the 
Harness Lace Crop Top
 and the 
Floral Mesh Maxi Dress
. Just add a black veil and some killer heels and rock the zombie bride look all in black.
Take a pretty black dress like the 
Crepe Cape Bodycon Dress
 or the 
Velvet Open Back Dress
 and add these amazing 
Pom Pom Lace Up Heels
 for the sassiest Halloween outfit ever!
"Zombie Bride"
You might not want to be an actual Zombie Bride, but you can get well into the Halloween costume spirit with some of these awesome Missguided buys. Then, just head down to the dollar store for all the cobwebs and fake blood you can get your hands on - sorted! I love these 
Strap-Around Tights
- perfect for those zombie-mummy looks. Or jump all aboard the skeleton train with the 
Skeleton Print Jumpsuit
 or the 
Beaded Skeleton Mesh Bodysuit
.
Want some middle ground between sassy and scary? Pair the 
Slash Back T-Shirt Dress
 or the 
Bardot Scary Eyes Dress
 with a touch of fake blood and some crazy contact lenses and you've got the perfect balance!
Even more from UNiDAYS
We bring the best discounts from the best brands to college and uni students, as well as exclusive videos, articles and loads of tips and advice to make your student life even better - all for free!
Join now or log in to start saving on everything from food comas and fashion to (finally) getting fitter.
Verify now to start saving on everything from food comas and fashion to (finally) getting fitter.


Got a lot to say? We're always looking for awesome guest bloggers. Get in touch with your ideas!