The madness of March is here and if you're throwing a party you absolutely need to think about how to blog your guests' minds with these amazing treats and decoration ideas!
1. Get The Invites Sorted
Get the party feeling going from the second they receive their invitation. That's right, you can make a Facebook group if you want to be sure of numbers but sending an actual invitation will make your guests feel like they're in the third grade again. Nostalgia wins every time.
2. Drinking Games
You can definitely adapt your favorite drinking games to have a basketball theme, for example take a drink every time your favorite player gets the ball or the opposite team scores. Obviously only do these if you're over 21 and even then remember to be responsible! You don't want to be missing the end of the game because you're puking up somewhere!
3. Make Basketball Inspired Treats
A themed party absolutely has to have themed food and drink! How about these
Cheesecake Pudding Shooters
for a real sweet hit?
A basketbal themed party isn't complete without buckets of snacks in your team's colors! I'm a little bit obsessed with this
Reese's Popcorn Snack Bucket
. Try adding some
3 Point Shots
to your drinking games to really take the March Madness theme seriously.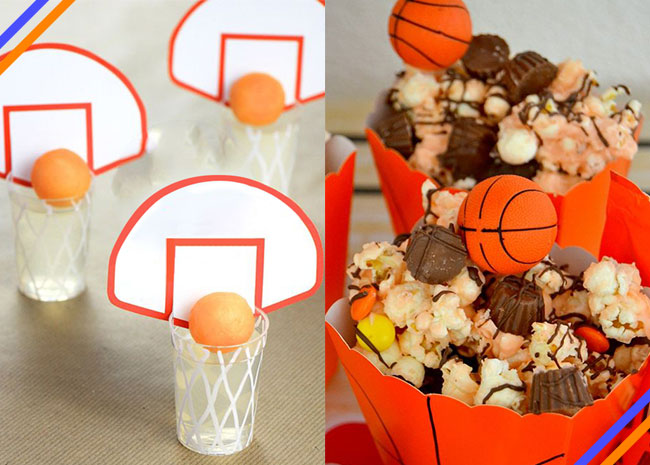 4. Eating Contests
So, your school is out of the running already? You can still watch the games and get into the spirit of March Madness! Why not organise your own tournament? This doesn't have to stop at basketball, why not cook up a load of chicken wings and have an eating contest?
Even more from UNiDAYS
We bring the best discounts from the best brands to college and uni students, as well as exclusive videos, articles and loads of tips and advice to make your student life even better - all for free!
Join now or log in to start saving on everything from food comas and fashion to (finally) getting fitter.
Verify now to start saving on everything from food comas and fashion to (finally) getting fitter.


Got a lot to say? We're always looking for awesome guest bloggers. Get in touch with your ideas!