The end is nigh. Here at UNiDAYS, we have a weekly ritual of discussing what just happened in the world of Westeros and speculating on what will happen next. Some of us don't want it to end, and some of us just want it to be over. Here's the roundup of what we think will happen in the Game of Thrones series finale, and who ends up on the Iron Throne. Meet your GoT fans:
Chloe: I'm just here for Jon Snow 😍
Ben: I'm a GOT Enjoyer, Hype Sceptic
Sarah: I'm a GoT conspiracy theorist. I look for hidden meanings in every episode. Also: Jon <3 Ygritte 4eva
Igor: I used to be mad about GoT up until season 6, now just curious how it all ends
Amy: I'd rather people tell me what's happened than watch myself haha
What do you think will happen in the aftermath of Mad Queen Dany?
via HBO
Chloe: Surely Jon, Aria and Tyrion wont accept her behaviour. Hoping they will all band together and do something EPIC but at this stage my expectations are pretty low. Might be cool if they used her dragon kill her - she wouldn't see that one coming.
Ben: She gon' die. Probs by Arya. Can't see Jon killing her as he's whipped AF
Sarah: I think Jon Snow will be forced to kill the dragon queen. Or maybe Tyrion will have to do it? He's a sneaky one...
Igor: I have a feeling she will not be sitting on the iron throne
Amy: Arya & Sansa will re-group and plot to kill Dany because they knew before she was Mad but it's now confirmed so they can justify their decision. Jon will be shocked at first but will jump on board and side with his "sisters". There will be a massive battle between those loyal to Dany (Grey Worm + Dothraki, etc) and those who disagree with her killing innocent people in Kings Landing (Jon, those loyal to the North, etc).
Who dies?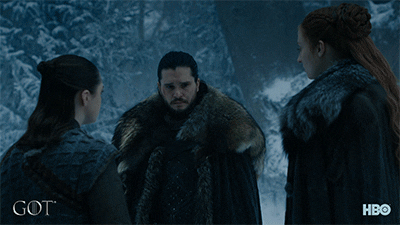 Chloe: Fingers crossed Dany. BYE FELICIA
Ben: Dany, maybe Jon (if he does, he'll die in some highly contrived, honourable way)
Sarah: Probably everybody. Lets be honest.
Igor: Possibly Mad Queen Dany :)
Amy: All of them! The white walkers never actually died.... Jokes, but I hope Dany does now!
Who ends up on the Throne?
Chloe: I'm still holding onto hope that Bran is going to do something magical and have some further purpose other than just chillin for the whole season. Otherwise, i'm still rooting for Jon Snow all the way.
Ben: Sansa. Yep. Her betraying Jon's trust was enough evidence for me to believe she has the cunning to be an excellent Westeros leader. She's like the 'under the radar' person in Big Brother who you don't see most episodes but ultimately takes home the $1million prize. I hope I'm not right.
Sarah: No one deserves the throne more than Arya IMHO
Igor: Jon Snow
Amy: Arya!
Even more from UNiDAYS
We bring the best discounts from the best brands to college and uni students, as well as exclusive videos, articles and loads of tips and advice to make your student life even better - all for free!
Join now or log in to start saving on everything from food comas and fashion to (finally) getting fitter.
Verify now to start saving on everything from food comas and fashion to (finally) getting fitter.


Got a lot to say? We're always looking for awesome guest bloggers. Get in touch with your ideas!