The uni semester is fast approaching us. Orientation week emails are rolling in and the winter break has decimated our bank accounts into dried up wastelands. Work is pretty much back in full swing, and those of us who were lucky enough to escape the freezing Aussie winter for a European summer vacay are slowly returning.
Slipping back into uni mode with a winter-break-induced lack of brain capacity is kind of like a slap in the face. We've all but forgotten what the inside of a book looks like and the concept of waking up before 1pm seems outrageous and totally unacceptable.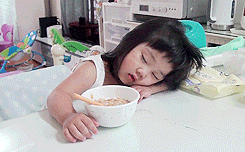 But fear not uni-goers: we've racked our brains to give you the ultimate go-to guide for ensuring this uni semester is your best one ever. Here's how to actually maintain a social life and make those HD's rain whilst remaining cool, calm and totally collected (or pretending to anyway).
Get A Diary
You know that period between Christmas and New Years where you have absolutely no idea what day it is? Yeah that's not really going to fly this sem. Whether it's a handy dandy app on your phone, a hardcover diary or good ol' Google calendar, this is the secret to keeping in the know about all life-related. Keep track of everything social/uni/work/life related and you'll find you can better manage your time. Even though it's halfway through the year, it's better late than never.
Go To The Random O-Week Shit
Sometimes forced socialising is weird and awkward but when it involves free snacks (and sometimes booze..), it's totally acceptable. O-Week is fast becoming the loosest part of the semester and there really is no better way to break the ice with others than with a few cups of cheap AF goon under your belt few lime cordials. Check out your uni's schedule for random events and take advantage of all the free stuff. From live music on campus, to O-Week parties, food trucks and giveaways, there are plenty of fab activities likely happening on your campus. And who said you have to be a new student to get all of the freebies?
Pre-Plan Fun Activities
When the really studious and over-achieving attitude you had at the start of the sem begins to fade (guaranteed), uni can become a pretty repetitive cycle of crying, exams and group work. I know it may sound a little optimistic to be fitting more things into an already crazy schedule, but having things to look forward to should just be another step in your self-care routine. Buy tickets to gigs or treat yourself to a post-exam boozy brunch and book it in advance. Not only will this keep your mental and emotional wellbeing in check (and probably encourage you to budget a little more), it'll give you a visible reward for all the hard yards of semester.
Choose Subjects You Actually Like
We're all guilty of choosing a subject only because it fits conveniently into our strictly no-Friday, no-9am class schedule. But when exam week rolls around and you genuinely have zero interest in your classes, keeping motivated becomes harder than the damn exams themselves. So choose units that actually seems interesting - and if you run into scheduling issues, try messaging the department and working out alternative times (sometimes there are other options!).
Get Sweaty
Whether it be squeezing in a workout before or after class, swapping the bus for walking or organising to kick a ball around with your mates, making sure you are keeping active during the sem is really important. Not only will it help you shed a few winter kgs, but working out regularly will keep you mentally and emotionally in check.
Need some extra motivation to kick off the sem? Try this on for size...
Even more from UNiDAYS
We bring the best discounts from the best brands to college and uni students, as well as exclusive videos, articles and loads of tips and advice to make your student life even better - all for free!
Join now or log in to start saving on everything from food comas and fashion to (finally) getting fitter.
Verify now to start saving on everything from food comas and fashion to (finally) getting fitter.


Got a lot to say? We're always looking for awesome guest bloggers. Get in touch with your ideas!