Extremely Wicked, Shockingly Evil and Vile is the movie on everyone's minds at the moment. I asked three co-workers their thoughts on the serial killer flick since the general vibe from everyone is pretty conflicting. It's got a 56% Rotten Tomatoes rating rating and most critics seem to agree that it's Zac Efron's charming performance as this serial killer which makes it problematic - did the producers intend to glamorise Ted Bundy? What impact does it have on young women? Let's find out.
First up, what are your thoughts on serial killer stories?
Chloe: I prefer to bury my head in the sand when it comes to serial killer stories, true crime or any scary stories for that matter.
Sarah: I am a crime doco junkee. Seriously. I have seen Making a Murderer (both seasons), The Keepers, The Disappearance of Madeline McCann, Casting Jon Benet, The Innocent Man, The Staircase, Abducted in Plain Sight…
Shannon: I am the LEAST into anything killer / crime / thriller / horror, or anything that might make my late night thoughts a little twisted, so this was about as true crime involved as I get!
How much did you know about Ted Bundy before you watched the film?
Chloe: A quick google search, lots of stories told by friends and overhearing the Netflix documentary while I hide in another room while it's on!
Sarah: I only found out about Ted Bundy once Zac Efron was cast as him (they look so much alike), and then Netflix released Conversations with a Killer: The Ted Bundy Tapes doco series so I thought I'd dive in and see who this guy was.
Shannon: Pretty much just through people's Ted Bundy/Zac Efron Thirst memes.
Part of what made Ted Bundy so dangerous was his "charm" which swayed the opinion of the media and the public- particularly young women. Do you think this film continues that narrative?
Chloe: This film definitely makes him seem charming - to the point where you almost don't believe he is guilty. Anyone who can pull a new girlfriend whilst being in prison for such horrendous things has to be pretty smooth. If I didn't know the story beforehand, I would have believed him 🤦🏻‍♀️ (and I hate Netflix for making me think this way).
Sarah: The film makes him seem TOO charming. I would have liked to see more slivers of the real Ted Bundy. I did enjoy the scenes where he is in court because Ted Bundy was actually really intelligent. The judge's final words to TB "It is an utter tragedy for this court to see such a total waste of humanity" is totally true because he could have done great things if he wasn't so "Extremely Wicked, Shockingly Evil and Vile"
Shannon: It's pretty good in terms of getting that message across. The film definitely showed how he could play a room, manipulate people's beliefs and was still catching gals even on his way to a death sentence.
Thoughts on Zac Efron as Ted Bundy?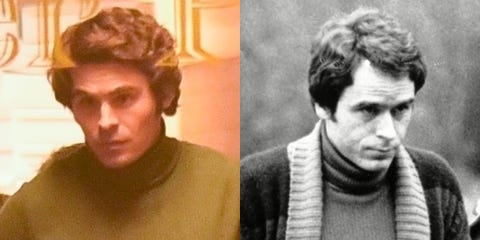 Source: Netflix
Chloe: I really liked Zac Efron in this movie. When you see clips of the real Ted Bundy being interviewed and then compare with Zac, he did a really good job at reflecting the same mannerisms and behaviours - even the 'unassuming criminal' quirks. There were points in the movie where I found myself feeling sorry for him which is absolutely crazy - but this just shows how well he played the manipulative, seemingly innocent, twisted persona of Bundy.
Sarah: I am a HUGE Zac Efron fan and have been since the days of High School Musical and Troy Bolton will always be my first teenage crush. HOWEVER, I did not think this film captured the true evil side of the real Ted Bundy. After watching the Ted Bundy Tapes, I was chilled to the bone. Everything about him and his voice and pictures of his creepy smile just creeped me the eff out! The things that Ted Bundy did were utterly atrocious so I feel like this film romanticised and humanised TB a bit too much for my liking.
Shannon: I think he played off the charismatic side of Ted Bundy pretty well, but there weren't many times I felt in any way creeped out by him, unless I thought more about the heinous crimes Ted actually did commit over his life.
You're all fans of Zac Efron, how does this role stack up in his career?
Chloe: It's great to see some diversity in terms of the role. It's not a typical Zac Efron chick flick. But in saying that, you also don't see him doing much of the 'bad' stuff. It's mostly him being a ladies man as usual. I think there are more funny memes that came off the back of this movie than there are good reviews about Zac's acting.
Sarah: Ditto to what Chloe said. It's also great to see Zac doing more "serious" roles rather than his usual chick flicks although I wouldn't complain if there was a Bad Neighbours 3...
Shannon: He's always brilliant to me. But I spent a good portion of my formative years with him as my phone background, and still appreciate anything and everything he does. I also think some of his best work was Hairspray, and of course the ICONIC HSM trilogy which goes down in history as some of the best cinematic work Disney Channel has ever done. Sorry, what was the question again?
Describe the movie in three emojis
Chloe: 💼☠️ 🐍
Sarah: 🕵⚖🚔
Shannon:🤫☠️👮‍♂️
Alright, what's your final rating of the movie?
Chloe: 7
Sarah: 7.5
Shannon:7.5
Hero image source: Netflix
Even more from UNiDAYS
We bring the best discounts from the best brands to college and uni students, as well as exclusive videos, articles and loads of tips and advice to make your student life even better - all for free!
Join now or log in to start saving on everything from food comas and fashion to (finally) getting fitter.
Verify now to start saving on everything from food comas and fashion to (finally) getting fitter.


Got a lot to say? We're always looking for awesome guest bloggers. Get in touch with your ideas!