We've got friends in high places.
We put ourselves in the pants of two big guns from General Pants: Chris Laing, Senior Studio and Content Manager, and Robbie Barnes, Buying Director (interview coming soon!)
They fill in the blanks on the future of fashion...
NAME: Christopher Laing
AGE: 38
CURRENT POSITION: Studio and Content Manager @ General Pants Co
FOLLOW HIM: @christopherlaing
DESCRIBE YOURSELF IN A HASHTAG: #content
My job involves...managing a very busy in-house eCommerce studio and all the digital content that is produced within the studio. I do this by being very organised and having an efficient, creative and hardworking team around me. In addition, I shoot marketing campaigns, social media content and a bunch of other photo-based content.
I got into this gig by...being in the right place at the right time. A friend initially called me to help out with the new website General Pants were building. This was meant to be for a couple of weeks, but 9 years later I'm still here. I had no experience in eCommerce and was a novice photographer, so everything for me has been learnt on the job.
I'd describe GP's vibe/philosophy as...existing to disrupt the average and bring together the best global trends and fashion to inspire young blooded individuals – (I may have copied this from their mission statement.)
A classic piece of GP content would be...the new Swim #NOFILTER Campaign – definitely one of the best content pieces we've done in a while with a strong message.
A trend I love is...black
A trend I don't love is...no trends bother me, do and wear what you like as long as it makes you feel good.
My highlight at GP so far is...no singular highlight really, all the shoots for me are highlights; campaigns, eCommerce, festivals, bands, I've been super lucky to have these opportunities that many photographers don't get, so for that I am grateful.
The hardest part of my job is...working within tight timeframes and managing thousands of products and images for the General Pants eCommerce site.
The best part of my job is...the people I work with, sounds cliché but couldn't come to work each day and enjoy it as much without them. Shooting campaigns at nice locations is pretty good too…
If you wanna do my job, you'll need...to love fashion photography and the whole digital marketing/eCommerce space or better yet just know someone who works where you want to work like I did.
I decide what to buy based on...necessity
Double denim is...definitely ok
I wish I'd never worn...spray on skinny jeans with legs as skinny as mine.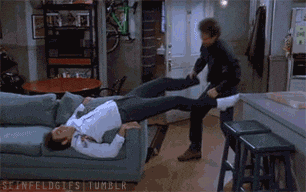 Socks and slides... [Y/N?] No, but I've probably done it once or twice
My all-time fashion icon is... Robert Barnes @bobby1980 – a true icon of the Sydney fashion scene
I define 'style' as...personal
The future of fashion is…predicting the future is impossible but there's no doubt that online shopping is the future, cheap plug www.generalpants.com.au
Even more from UNiDAYS
We bring the best discounts from the best brands to college and uni students, as well as exclusive videos, articles and loads of tips and advice to make your student life even better - all for free!
Join now or log in to start saving on everything from food comas and fashion to (finally) getting fitter.
Verify now to start saving on everything from food comas and fashion to (finally) getting fitter.


Got a lot to say? We're always looking for awesome guest bloggers. Get in touch with your ideas!