Here are some Europe stats coming at you: 50 countries, 225 languages, over 10 million square kilometres and probably 100,000 hostels that smell kind of weird. That's a whole lotta Europe to explore. And making sense of it all can be tricky. Even if you've narrowed down your search to a single country, say Italy, where do you start? On a beach in Naples? Up north in the Alps? Wandering aimlessly in search of a good Florentine gelato? The continent has got a bit of a rep for solo backpacker travel, but that doesn't mean it's the only (or even the best) way to do it. There are heaps of advantages to joining a small group tour in Europe. You sacrifice a little independence, but if you do it right, you get a lot back in return.
Central accommodation
If you pick the right tour company, you can usually guarantee they've done the hard work and picked a hostel or hotel that doesn't suck. This isn't always the case. Contiki in particular is renowned for putting its guests as far away from the centre of town as possible to save a few Euro. Ideally, pick an operator that gives you the names of their accommodation on the trip notes – then you can do a quick TripAdvisor and GoogleMap search and see for yourself. Tour companies not only know the best place, they usually get a better rate, because they can book multiple rooms at a time and they have good relationships with the hostels they use. Ever tried to find a dorm room bed in London over Christmas? You may as well be staying in The Ritz. It can cost a solo traveller mucho dollars to do everything by themselves – you're paying an accommodation premium every time you try.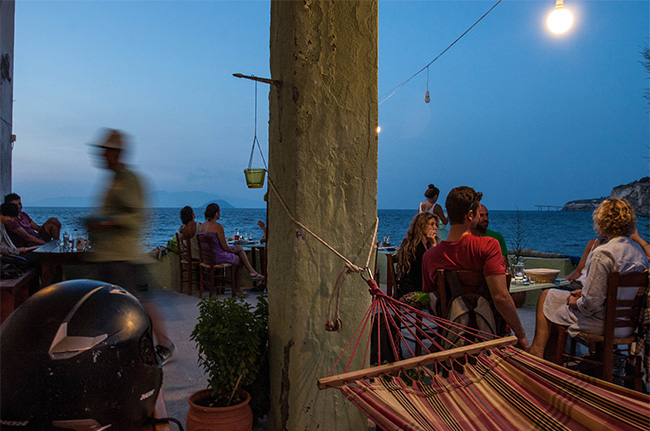 Credit: Nikos Patsiouris
More trains, fewer buses
Some people think that small group travel means big 50-seat coaches and a guide wearing a headset and spouting history lessons. But (for the good ones anyway) that's not so much a thing any more. Companies like Geckos Adventures use trains for most of their Eurotravel, as opposed to big road coaches. There are a few benefits to this. One, trains are just cooler. Two, you get to see and mingle with local travellers. Three, no traffic jams or motion sickness, so you can read to your heart's content. Four, sleeper trains. Nuff said. Plus when you arrive in Paris and look up at the beautiful old roof of Gar de Nord, or wander past Platform 9 ¾ at Kings Cross in London, it's just a really nice intro to a city. You don't get the same experience when you hop off the J7 bus at terminal 7, or get dropped straight at your hostel door in the middle of nowhere.
Credit: Mariano Mantel
That local edge
This is probably the big one. People think they can do Europe by themselves because a lot of the continent can speak English (or at least understand your Grade 3 French). And it's true, you can do Europe by yourself. You'll probably get around fine and see some cool stuff. But you won't see the best stuff. The petite Parisian boulangerie that doesn't appear in Google. The little vineyard in Moldova that's been run by a family for hundreds of years. A hole-in-the-wall in Naples that does the best pizza in town. A local leader knows all these things. They also know how not to get robbed on Las Ramblas in Barcelona, and the cheapest way to get from Split to Hvar on a weekend. You can't buy that kind of local wisdom. Well you can, if you buy a small group tour.
Credit: Spyros Papaspyropoulos
Ready-made besties
Another sweet little perk of group travel. Sure if you travel solo you'll meet people at the hostel in Krakow, but you'll usually leave them the next day. There's not a lot of chance to form real relationships or friendships. But on small group trips you've got more time to just chill and chat. You'll also share some cool experiences that you wouldn't otherwise have done. E.g. instead of just hitting up the ruin bars in Budapest with some Viktor Krum lookalikes from the hostel lobby, you might spend the day in a thermal bath with your group mates, before riding bikes along the Danube and checking out the infamous House of Terror. Can you say 'Way better travel anecdotes?' And if you're worried about being the only solo traveller on the tour, don't be. For a lot of operators, the majority of their passengers go by themselves. You can even pay a bit extra and get a room all to yourself.
Credit: Tony Evans
Cheaper than rolling solo
A lot of people are turned off group travel because of the up-front cost. It can seem high from a distance. But you have to dig down into the itinerary to see what you're getting for your money. Check to see if there are included activities, how many meals you're getting, the standard of the accommodation etc etc. And don't forget most small group tours in Europe will have your train pass included in the price. Add in the hard-to-quantify experience of a local leader and suddenly that 30-day trip from London to Rome is looking like pretty good value. At the end of the day, ask anyone who's done a group tour and the one thing they'll say (whether or not they enjoyed it) was that they saw A LOT. You definitely arrive at the finish line with a sense of 'Yeah, I did Europe proud.' And that's a feeling you often don't get when you roll solo. 
Credit: _ChrisUK
Ready to roll on a Europe group trip? Check out our mates at Geckos Adventures.
Even more from UNiDAYS
We bring the best discounts from the best brands to college and uni students, as well as exclusive videos, articles and loads of tips and advice to make your student life even better - all for free!
Join now or log in to start saving on everything from food comas and fashion to (finally) getting fitter.
Verify now to start saving on everything from food comas and fashion to (finally) getting fitter.


Got a lot to say? We're always looking for awesome guest bloggers. Get in touch with your ideas!