She wore it best
Fashion rules? Fk that. We caught up with Miranda Lewit-Mendes, A.K.A @thegirlwholivedforclothes to find out how she creates her most double-tappable outfits. Check out her feed, heed her advice, and get inspired to make your own fashion statement.
You're a self-proclaimed "science nerd". What do you study?
I just finished my first year of a two-year Master of Genetic Counselling, so I'm studying to become a genetic counsellor. For those of you who don't know (99% of people I speak to have never heard of this course or job!), genetic counsellors are health professionals trained in medical genetics and counselling, who help people understand and adapt to the implications of genetic conditions.
When did you start @thegirlwholivedforclothes?
I started this Instagram page almost five years ago now, but back then it was mostly a dream and a lot of mirror selfies that I hope never, ever resurface. In the past few years I decided to start taking things a bit more seriously, so I purchased a camera, did some research, and dedicated a lot more time to the page.
How does an outfit begin for you?
That's a hard one. Outfits stem from all sorts of crazy ideas and angles for me. I never really know how it's going to work. I generally try to pick a piece that I want to be in the outfit (and that's weather appropriate... but not always) and build the outfit around that. Sometimes I'll end up putting an outfit together, hating it, and building a new outfit instead around just the socks or earrings I put on for the original outfit! It depends how I'm feeling on the day, but sometimes I'll feel like a certain style or look—preppy or a colour clash—so I'll work around that.
Who are your top three pop culture fashion icons?
I don't so much have any particular icons, but there's a few TV shows and films that had fabulous wardrobes. The Devil Wears Prada and Gossip Girl (Blair Waldorf will forever be the queen of preppy) are some of my favourites. I seem to have an unrelenting obsession with tartan, so I supposed I have to blame Clueless for that?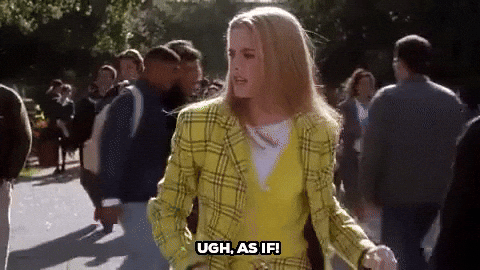 If you could choose just one accessory to wear for the rest of your life, what would it be and how would you wear it?
A black vinyl backpack! Sleek, versatile, and (never thought I'd say this) practical. I'd wear it with my red vinyl jacket, wide leg black pants, white Dr Martens boots, a checkerboard mesh top, and a red vinyl baker boy hat!
What advice do you have for those who want to take fashion risks but are scared to?
Remind yourself: what's the worst that can happen? Someone might stare at you in the street? I get it can be totally daunting, and it took me a long time to have the confidence to take the fashion risks I do today and not get flustered by odd looks from strangers (especially when your friends may not take any risks at all). Start with smaller risks and, once you're confident with those pieces, start adding more and more. Soon you'll be walking around in a rainbow triple-print clash with not a worry in the world. People will respect that you are wearing what you want to wear, not what you think other people want you to wear. Remember: you wear clothing all day, every day, so you might as well have fun and wear things that make you happy.
Any advice for those who want to start blogging?
Find a niche, be yourself, and be prepared to spend a LOT of time on it if you're serious about it. Make sure you love the process and what you're blogging about.
Follow her 👇
Insta: @thegirlwholivedforclothes
Even more from UNiDAYS
We bring the best discounts from the best brands to college and uni students, as well as exclusive videos, articles and loads of tips and advice to make your student life even better - all for free!
Join now or log in to start saving on everything from food comas and fashion to (finally) getting fitter.
Verify now to start saving on everything from food comas and fashion to (finally) getting fitter.


Got a lot to say? We're always looking for awesome guest bloggers. Get in touch with your ideas!