Many students are put off by the expense of living in London, but don't be too quick to dismiss it as an option for university. London is an incredible city! There is so much going on which is one of the many reasons why the city attracts so many students from across the world. As the largest city in the UK, it might seem daunting to move there as you might not know the student hotspots and places to go. I'm here to help and give you my top 10 reasons you'll love studying in London. ‌ [embed][/embed]
‌‌
1. It's a lively city
London is a city that never sleeps. It is impossible to get bored and there is always something new to try. There are a number of museums and galleries that are well worth a visit. I recommend visiting The Tate Modern if you're a fan of contemporary art, plus it's free so it won't make a dint on your bank balance. If you're considering London for a fashion degree there are always exhibitions showcasing designers work. I recently went to the V&A Museum to see an Alexander McQueen exhibition!
2. There's career opportunities
London is the ultimate city for opportunity and if you're a student that is ambitious and driven, it is definitely the place for you to kick start your career. The city is home to the world's largest companies headquarters. Whether you are looking to progress into fashion, banking or anything in between, these large employers provide opportunities such as networking events for students as well as internships and work experience opportunities that you can do in your Easter or Summer holidays. I recommend doing an internship if possible as it lead me to job opportunities for after I graduated!
3. The nightlife
London is full of cool and quirky bars and clubs that are a great experience for new students moving to the city. I recommend Bar Kick in Shoreditch; a chilled place with a dozen table football tables, ideal for a chilled night! If you're looking for cheap and cheerful head to Moonlighting in Soho which has drinks for a quid. For something heavier, Fabric is a legendary mega-club that plays a variety of electro, house and drum 'n bass.‌
4. The history
The city is packed full of history, it's a sightseers dream! Places like Buckingham Palace, Big Ben, The Tower of London and The Houses of Parliament are great places to visit if you have an interest in History and want to explore the city.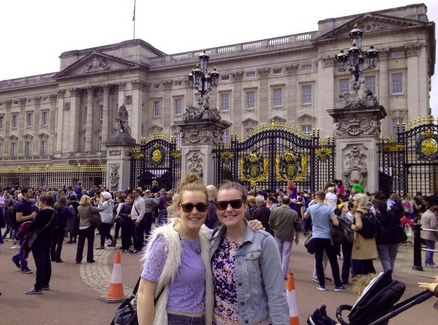 Image c/o Elena Martin‌
5. The food markets
London is incredible when it comes to food. You can find anything and everything in street markets across the city. From local fish and chips, to vietnamese and Italian, you can try food from all corners of the globe. Food markets are a cheaper alternative to grab something to eat than dining in expensive London restaurants. I loved going to Borough Market and Camden Lock Market where you can pick up some amazing bargains and tasty treats. My tip - leave home hungry, you're going to want to eat everything! ‌ [embed][/embed]
‌‌ 6. The fashion & shopping
Home to London Fashion Week and a shopping experience that is like no other, London has everything from designer flagship stores to the biggest Topshop you will ever set foot in. If vintage is your thing, Camden Town is the place for you with its vintage markets and weird and wonderful shops; you will never be bored of shopping.‌
7. The theatres
London has some of the best theatre in the world and experiencing London's West End is a must! Plays such as The Lion King, Les Miserables and Matilda are popular choices. Tickets can be expensive, however if you're a keen bean there are chances to queue early in the morning to get tickets for a fiver! ‌
Image c/o Elena Martin
8. The parks
London boasts some of the best urban parks in England. Not only are they the perfect place for having a chilled day away from revision or to get away from the hustle and bustle of the city, they also host several events each year which are great to join in with as a student in the city. I went to Wireless Festival in Hyde Park and got to see Jay-z! Awesome.
9. The Notting Hill Carnival
Notting Hill Carnival was one of my fave experiences whilst living in London as a student. The streets of West London come alive every August Bank Holiday Weekend as London celebrates Europe's biggest street festival. SO much fun! ‌
10. London's endless amounts of fun
If you move to London for university, you will have endless amounts of fun. There are over 100 cinemas, over 7000 bars and pubs, over 5000 restaurants, over 350 live music venues and over 100 parks. Is that enough to get your teeth stuck into?!
11. Cereal Killer Cafe
We couldn't not mention the epic hipster establishment that is the Cereal Killer cafe on Brick Lane. I mean, it's insane but you have to visit at least once during your time in London! ‌ &hl=en ‌
Even more from UNiDAYS
We bring the best discounts from the best brands to college and uni students, as well as exclusive videos, articles and loads of tips and advice to make your student life even better - all for free!
Join now or log in to start saving on everything from food comas and fashion to (finally) getting fitter.
Verify now to start saving on everything from food comas and fashion to (finally) getting fitter.


Got a lot to say? We're always looking for awesome guest bloggers. Get in touch with your ideas!