I am literally fashion obsessed. And as much as I love a good high street bargain, I can't wait until I can shop in places that you'd find on Rodeo Drive, New Bond Street, Fifth Avenue or the Avenue des Champs Elysees. So considering my designer obsession, you can probably see why I love Fashion Week season. Kicking it off in style was New York Fashion Week and it was certainly an eventful one!
From Posh Spice To Posh Style
I've always loved Victoria Beckham's brand, not only for her beautiful collections made up of chic tailoring and clean-cut lines, but for the woman behind the operation. Her transformation from 90s popstar to WAG to highly-acclaimed designer is one we can all admire. And with a handsome husband and model children to boot, she is living proof that some women really can have it all.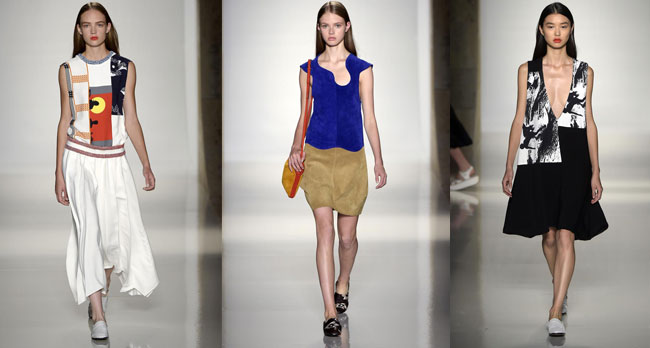 Image source 
telegraph.co.uk
A Fallen Angel
If you use the whole 'fallen angel' chat up line on Candice Swanepoel at any point in the near future then I'm going to guess that she won't take it very well. The Victoria's secret model, lost her footing while walking the Givenchy SS16 show and landed on her hands. Like a true professional though, she got back up and carried on.
Image source 
dailymail.co.uk
Model Behaviour
Over on the Diane Von Furstenberg show, it was like instagram brought to life. Leading the model pack was Kendall Jenner in a gorgeous sheer playsuit, followed by gal pals Gigi Hadid, Jourdan Dunn, Lily Aldridge and Karlie Kloss. Selfies were involved, naturally.
Image source 
dailymail.co.uk
Face Lace
Luckily for Candice Swanepoel, her mishap wasn't the star of the Givenchy show. It was the statement face lace that people can't stop talking about. The collection was meant to be a "celebration of love" but this bold look seems to be more of a celebration of makeup and along with the tribute to 9/11, it was the star of the show.
Image source 
telegraph.co.uk
Same Name, Same Style
Jenny Packham is definitely up there in my top 5 favourite designers - I'm sure the whole sharing-a-name-thing has nothing to do with it. Her SS16 collection didn't disappoint - with floaty fabrics and bright florals, this is a collection that I'm really hoping translates well to the high street. Until I can afford the real thing of course.
Image source 
vogue.co.uk
Even more from UNiDAYS
We bring the best discounts from the best brands to college and uni students, as well as exclusive videos, articles and loads of tips and advice to make your student life even better - all for free!
Join now or log in to start saving on everything from food comas and fashion to (finally) getting fitter.
Verify now to start saving on everything from food comas and fashion to (finally) getting fitter.


Got a lot to say? We're always looking for awesome guest bloggers. Get in touch with your ideas!