You know when 20% off 
ASOS
 hits
UNiDAYS
the saved items sections are about to see some action. Items out rather than in for once and straight into that basket. Here are our top 10 jackets for the new season because we've got to admit that autumn is rolling in faster than you can say Halloween!
The shearling
First up, let's go straight in there with the cosy feels. Shearling has to be the warmest ever option for a stylish jacket and they give you a really retro feel to your look. We love the 
Vintage Faux Shearling Coat
 and the 
Faux Shearling Jacket in Brown
, both ASOS own brand.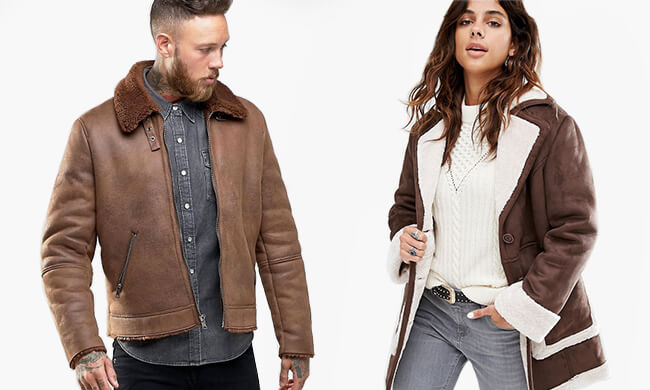 The biker
A biker is a classic jacket for anyone an ASOS do some great versions for anyone's style and everyone's budget! This 
Faux Leather Biker With Textured Panels
 is an absolute steal for £48 with your ASOS double discount and this 
Leather Biker With Belt Detail
 is real leather with some sartorial detailing to make New York Fashion Week sit up and listen. We love it!
The longline bomber
A bomber is the easiest jacket to throw on during the autumn months and is a great transition piece. Warm enough for dropping temperatures but great for when it's not quite winter coat weather. This 
New Look Longline Khaki Bomber with Borg Lining
 has a little extra warmth with the borg lining which is super cosy and the 
New Look MA1 Black Longline Bomber
 is a great simple jacket to replace your trusty summer denim jacket when things get chilly!
The Statement
Embroidery is the detail du jour for sure. We're obsessed and these two ASOS jackets are really pulling the WOW out of the bag this season. First up girls, this 
Floral Embroidered Premium Biker Jacket
 brings a girly edge to a tough jacket and will make any jeans and tee outfit seriously stylish. Guys, this 
Bomber Jacket With Alaska Eagle Embroidery
 is just exactly what your wardrobe needs this season if you like to turn heads and make a statement!
The Denim
Denim doesn't have to just mean summer in terms of jackets and coats. This 
Denim Duffle Coat With Borg Lining
 is a great alternative to dark winter coats and will still keep you cosy thanks to that borg lining we're seeing pop up again.
Finally, layering a slightly thicker denim over a chunky knit or a hoody will make sure you're keeping out the cold whilst still looking fresh. This 
Jack & Jones Vintage Wash Denim Jacket
 is spot on for that and you can save
20% with your ASOS boosted discount
for a limited time only!
Even more from UNiDAYS
We bring the best discounts from the best brands to college and uni students, as well as exclusive videos, articles and loads of tips and advice to make your student life even better - all for free!
Join now or log in to start saving on everything from food comas and fashion to (finally) getting fitter.
Verify now to start saving on everything from food comas and fashion to (finally) getting fitter.


Got a lot to say? We're always looking for awesome guest bloggers. Get in touch with your ideas!