Ok, so maybe not essentials. I lied. But these are definitely products and ideas that are key for keeping on track with your fitness routine - be it Freshers or not! These are some of my favourite things to have in my gym bag to make sure I don't fall off the wagon.
1. Snacks
If there's a snack to have, I'll be eating it. So, I always make sure I pack snacks to take out with me if I know I won't be able to go home to grab one before the gym.
All Change London Tube Snack Boxes
Holy Chic Water Bottle
Camo Snack Boxes
2. Record notebook
This might sound crazy if you've never considered this before, or you'll be totally in tune with this idea. It's a love/hate one. I like to take a small notebook to the gym with me to record work-outs, reps, weights, time completed, etc. This means that the next time I head to the gym I can check out what I did last time I worked that particular body part and try and improve! Paperchase obviously have some wicked notebooks in all different sizes and designs, here are my top 3 picks.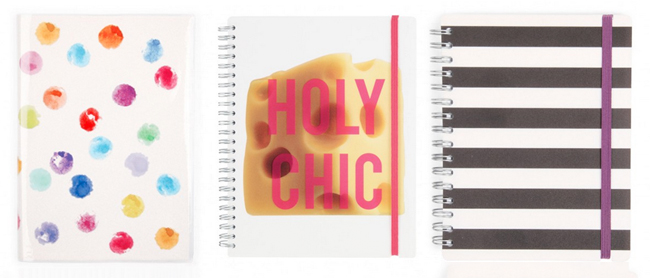 A6 Stripe Notebook
Holy Chic Cheese Notebook
Glitter Splodge Notebook
3. Post-workout treats
As well as my pre-gym snack, which I'll have about an hour before I train, sometimes I need a little post-workout snack or shake too if it's going to be a while until dinner. My favourite post-workout shake is
Caramel Macchiato Whey Protein 80
from The Protein Works and Katie's choice is always Chocolate Silk - us girls gotta eat, ya know!
Even more from UNiDAYS
We bring the best discounts from the best brands to college and uni students, as well as exclusive videos, articles and loads of tips and advice to make your student life even better - all for free!
Join now or log in to start saving on everything from food comas and fashion to (finally) getting fitter.
Verify now to start saving on everything from food comas and fashion to (finally) getting fitter.


Got a lot to say? We're always looking for awesome guest bloggers. Get in touch with your ideas!