Being an avid baker, there is no time of year more exciting for me than Easter! It's the perfect time to go baking mad with Mini Eggs and Shredded Wheat chocolate nests galore! My favourite of them all though, has to be the Crème Egg and I've found loads of amazing recipes that I'll be giving a try this year!
1. Crème egg cupcakes
Cupcakes are always a good way to go!
These ones
not only look cute but come with a surprise Crème Egg stuffing!
2. Crème egg cookies
More of a cookie person? Give
these
a try!
3. Crème egg brownies
I have actually made some
Crème Egg brownies
before and they were uh-mazing so I would seriously recommend giving them a go!
4. Crème egg rocky roads
And how good do these
rocky roads
look? They're worth making for the instagram-able quality of them alone!
5. Crème Egg Cheesecake
If you feel like trying something a bit different then this
Crème Egg cheesecake
will really get people talking!
6. Crème egg ice cream
I've never attempted making my own
ice cream
before but this looks so good that I might just have to try!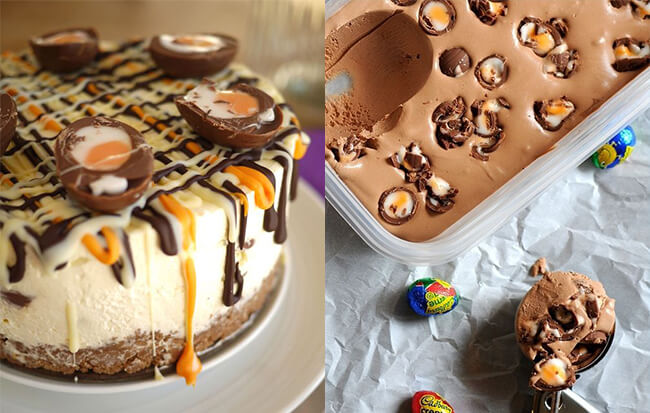 7. Crème egg milkshake
Why not really mix things up and drink your Crème Egg instead of eating it by whipping up one of these yummy looking
milkshakes
?
8. Crème egg scotch egg
And this recipe is my favourite by far - I give you the
Crème egg scotch egg
! Top points for originality to whoever came up with that one; these are going on my must-try list!
Even more from UNiDAYS
We bring the best discounts from the best brands to college and uni students, as well as exclusive videos, articles and loads of tips and advice to make your student life even better - all for free!
Join now or log in to start saving on everything from food comas and fashion to (finally) getting fitter.
Verify now to start saving on everything from food comas and fashion to (finally) getting fitter.


Got a lot to say? We're always looking for awesome guest bloggers. Get in touch with your ideas!