When this little 
Kiehl's
 parcel of joy landed on our doorstep here at
UNiDAYS
® HQ we were definitely excited. We can't wait to share with you what we think about some of Kiehl's best selling products because they're seriously great. Kiehl's believe in natural skincare but with a little push from science and I think this is an awesome combination. Don't forget that you can save a ginormous 20% online when you shop at Kiehl's using your
UNiDAYS
® discount!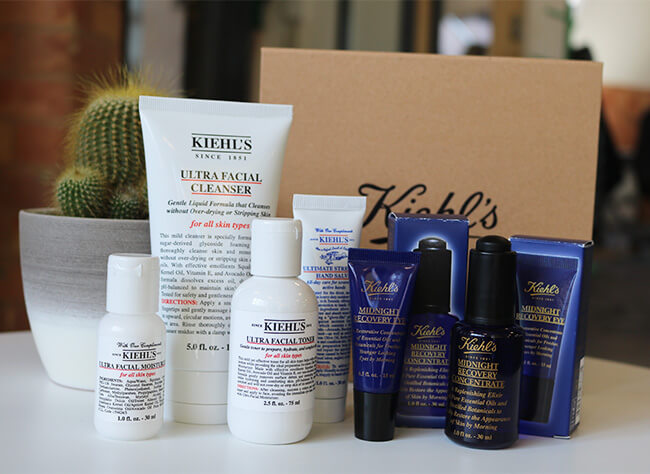 First up, let's just take a moment to appreciate how cute the cardboard box is with the logo printed on it. Everything was wrapped in black tissue paper and was literally the chicest cardboard box I've ever seen! One of our top products from the box is the 
Ultra Facial Cleanser
, this is an awesome face wash for anyone who has really confusing skin. I can vouch for this as I thought I had oilier skin than I did, actually it's just combination and can really be quite dehydrated and this cleanser doesn't irritate my skin, dry it out or make it break out. Because this cleanser isn't drying or stripping and is suitable for all skin types it's amazing if you're confused about your skin type. It simply removes all oil, dirt and nasty stuff and maintains your skin's PH level. This retails at £15 but you can grab it for £12 with your student discount - score!
The Ultra Facial range is complemented by the 
Ultra Facial Toner
 which helps refine the skin's surface texture while prepping it for a moisturiser such as the 
Ultra Facial Moisturiser
. This is a super lightweight moisturiser which is again formulated for all skin types and includes skin-friendly ingredients such as Vitamin A & E.
Finally, two products that we've been absolutely loving from our Kiehl's unboxing are the 
Midnight Recovery Concentrate
 and the 
Midnight Recovery Eye
. These products aren't just for anti-ageing, they simply replenish and restore the skin with amazing botanical oils and you end up looking super radiant. You can save over £7 on the Concentrate with your
UNiDAYS
® discount and we think that's amazing!
Even more from UNiDAYS
We bring the best discounts from the best brands to college and uni students, as well as exclusive videos, articles and loads of tips and advice to make your student life even better - all for free!
Join now or log in to start saving on everything from food comas and fashion to (finally) getting fitter.
Verify now to start saving on everything from food comas and fashion to (finally) getting fitter.


Got a lot to say? We're always looking for awesome guest bloggers. Get in touch with your ideas!