Calling all beauty buffs! Have you heard? There's an amazing 3 for 2 offer across the whole Seventeen range at boots.com plus you can use your 10% 
UNiDAYS
®
student discount
on top and bag a serious bargain. Naturally, the girls here on the social team had to give some of these awesome products a go and let you all know which products were our favourites and why!
Seventeen have some absolutely great palettes in their new range and firstly we tested the 
All Out Pout
 lip palettes in
Fancy Free
and
Woo Me
. These are the perfect party palettes made up of 6 rich satin, gloss and glitter shades. [blockquote quote="I'm always in the market for a new lip colour and this All Out Pout palette has so much choice! The brush is my new best friend allowing the easiest application with my unsteady hands." name="Maddy"]‌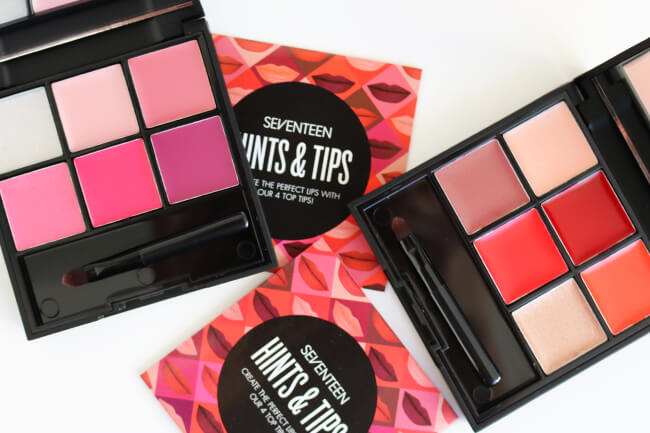 Eyes next and we had two more dreamy palettes to try. The 
Easy On The Eye
eye shadow palettes come in two shades,
The Big Smoke
, an amazing collection of jewel and purple toned shadows and
Birthday Suit
, a range of nude eyeshadows that Kylie Jenner would be proud of. In each of these palettes, for less than £8.00 you get a collection of 8 matte, shimmer and pearl powder eyeshadows with 3 metallic cream shadows and an eye primer. This is seriously good value. Our girls
Katie
and
Jenni
gave them a whirl. 'Birthday Suit' was featured in super-vlogger Zoella's latest
Boots Haul video
 and she's definitely a fan! [blockquote quote="All the shades in this palette are so beautiful with some really pretty pinky shades." name="Zoe Sugg"]‌
To complement these gorgeous eye shadow palettes, mascara is a must and Seventeen's new 
Long Lash Mascara
 is pretty damn good if I say so myself. I tried this mascara out and I must admit that I'm usually a high-end mascara girl but I really liked this product. It holds a curl, lengthens lashes and is super black. All of this for less than £7. [blockquote quote="I am well and truly converted to Seventeen mascaras!" name="Allie"]‌ We also tried out a couple of face & base products from Seventeen's range. First up, the 
Let's Face It
face palette is a great handbag addition for those everyday touch ups. It contains a pink toned concealer, a yellow toned concealer, a cream blush for a natural flush and a setting powder to finish your look. Seventeen's 
Skin Wow Primer
 is a must in anyone's makeup bag if you love a bit of glow to your look.
[blockquote quote="This clever little primer can be used in three ways, under foundation, mixed in with foundation or over foundation for extra highlight!" name="Allie"]‌ Craving Kardashian cheekbones? You need the 
Define & Conquer Contour Kit
! Zoella said she was sensing a serious Nars vibe from this contour kit in her latest video and we totally agree, this palette is definitely a dupe for the cult Nars contouring palette. Typically highlighters are shimmery, however in this kit both powders are matte as this allows you to create more definition in your contoured look rather than relying on light to help create the look which is really clever! [blockquote quote="This contour kit is amazing! The powders are so nice and blendable and buildable - it'll really make your cheek bones pop!" name="Jenni"]‌
Brows are serious business in the
UNiDAYS
® office, and especially in the social team. Needless to say the 
Brow's That! Brow Kit
 was very popular and we were all excited to give it a go. With a handy eyebrow pencil and a highlighter applicator, this is a super concise kit that features a soft wax and a setting powder to achieve a super long-lasting finish, and for only £5.99 even before your
UNiDAYS
® discount, this is a seriously good value piece of kit. Finally, we finished with some manicure action and tested out Seventeen's 
Gel Colour nail polishes
in Maraschino Cherry, Pick Me Up and Blue Lagoon. [blockquote quote="Typically, I'm not a fan of red nails, but I actually LOVE this colour! Plus I'm 4 days in and still chip-less. Winner!" name="Katie"]
[blockquote quote="This nail colour is my new fave. Not only is the colour just right, it's great for a one coat cover.  Even kickboxing can't chip these bad boys!" name="Maddy"]‌ Don't forget to grab the amazing
10% off
 on top of boots.com's offers when you treat yourself to some new beauty booty!
Even more from UNiDAYS
We bring the best discounts from the best brands to college and uni students, as well as exclusive videos, articles and loads of tips and advice to make your student life even better - all for free!
Join now or log in to start saving on everything from food comas and fashion to (finally) getting fitter.
Verify now to start saving on everything from food comas and fashion to (finally) getting fitter.


Got a lot to say? We're always looking for awesome guest bloggers. Get in touch with your ideas!