It can be quite a struggle in the morning when that alarm clock goes off, how often do you wake up in the morning and think 'I'll spend an hour doing my hair'? Never, exactly. Luckily for you we've found 3 hairstyles which are ideal for college, and a couple of products to help you achieve these looks. Don't forget, using your college discount you can save 20% at ghd too!
Keep it simple!
Straight hair is a failsafe option for school, it looks good and it's so easy to do. Whether you literally want to straighten and go, or straighten and style, you'll need some good quality straighteners that you can trust. Look no further than these
Gold Professional Stylers
, and don't forget to protect yo' mane with some
Heat Protect Spray
. For the best results, remember to section off your hair - if you don't, you'll probably miss some bits out. Not cool.
Hair Image Source.
Cute curls
Love having curly hair but think it's going to take a lifetime to do in the morning? That definitely doesn't have to be the case. This
Curve Soft Curl Iron
 plus this
Curl Hold Spray
are the ultimate dream team for soft curls which will last all day. The spray also protects your hair from heat, so it's basically a 2-in-1. For a curly up-do, simply pop your hair up into a ponytail or half-up pony and curl away. Easy or what?
Hair Image Source.
3. Volumized pony
Ponytails are great because they keep your hair out of your face all day, but they can start to look a bit flat on the head after a couple of hours. The solution? Volume, volume, volume! Prior to blow drying, apply 2-4 pumps of this
Total Volume Foam
, dry your hair upside down with a powerful dryer like the
All Electric Pink Dryer
, flip your hair back over and tie up as you would normally. You can say goodbye to the plain old pony, volume really is a girl's best friend!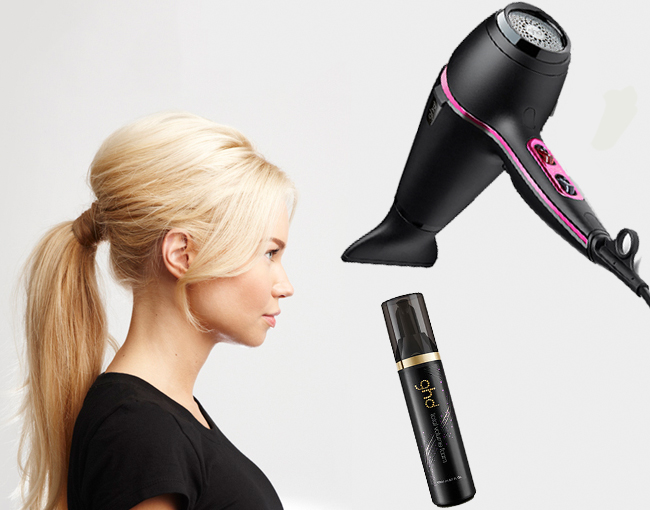 Hair Image Source.
So, there we have it - I told you it would be super easy. Don't forget to use your discount to make some savings too!
Even more from UNiDAYS
We bring the best discounts from the best brands to college and uni students, as well as exclusive videos, articles and loads of tips and advice to make your student life even better - all for free!
Join now or log in to start saving on everything from food comas and fashion to (finally) getting fitter.
Verify now to start saving on everything from food comas and fashion to (finally) getting fitter.


Got a lot to say? We're always looking for awesome guest bloggers. Get in touch with your ideas!